1) Name: The Judge of the Dead / Shikieiki
Sex: Female
Age: Unknown
Type: 000
Weakness: Head
Affliation: Dr. Roy Curien and Caleb Goldman
Physical Description: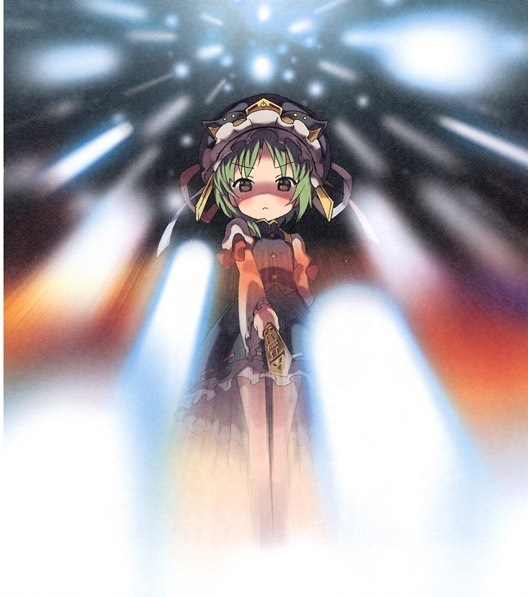 Mental Description: She has an IQ of 980, she barely speaks, and she can easily trick her enemies.
Storyline: Her past is unknown.
2) Powers and abilities: She has the power materalize and shoot lasers from thin air, she can levitate, and etc.
3) Monologue: Shikieiki stood quietly in front of the Gate of the Curien Mansion, she held the golden articifact in her hands, and rubbed it for good luck. "I can do this..." Shikieiki said to herself and then moved her foot around on the ground. She shook her head. "No I can't...." Then she, turned back away from the gate but then turned back and opened the door. Shikieiki slowly walked along the pathway.
Here I come, Master...GH0ST....
---
1) Name: The Empress 2.0
Sex: Female
Age: Unknown
Type: A
Weakness: Unknown
Affliation: Goldman
Physical Description:
Mental Description: Empress has an IQ of 160, she is stubborn and hates people who bosses her around.
Storyline: The Empress 2.0 was created by Goldman in order to moderate humanity's ever-growing population if the Emperor failed. Goldman had intended to postpone awakening his creation until she was fully ready, but because of the quick advance of the AMS agents sent to stop him, he was forced to awaken her early.
Sick of her orignal purpose, The Empress fleed the scene just to reside in another city, during this time she met GH0ST and Shikieiki and became partners with them ever since.
2) Powers and abilities: She can telekinetically control several metallic orbs that can shapeshift into weapons and even life-forms. Additionally, She can completely conceal her physical body while still leaving the orbs visible. She has increased mobility. Combined with her already godlike speed, this makes the Empress deadly at any range.
3) Monologue: Empress levitated high up in the air, looking down at the upcoming AMS Agents. She scoffed in annoyance of their appearance, and 2.0 took a deep breath.
There always the ones to show up....
The Empress thought to herself, and rose her right hand up to her face a metalic orb materalizied in her hand. "I'll finish all of them, one by one. All by myself. Anything to keep my partner from harm." She said then aimed her hand at one of the AMS Agents knocking him to the ground.
All of them in alert quickly aimed their guns in each direction they looked at. Empress kept materalizing metal orbs, and then she pointed her finger and all the orbs hit them knocking all of them to the ground. Empress snapped her finger and the floor was suddenly engulfed with flames, killing all of them.
"Heh." Empress said smirking then disappearing. "To Easy....." Her voice echoed.
4) How often will you be onliine: Everyday
5) Do you agree with the RP rules: Yes